Store
Listen anytime, with unlimited access, to all six recordings of our six part DISCOVER TRUTH webinar.  Click the Buy Now below for $22 and we will email you all six recordings now!
–Did you take the red pill or the blue pill?  If you took the red pill, you are ready for the DISCOVER TRUTH WEBINAR.  Come follow me down the rabbit hole and on the yellow brick road and discover where home really is.  I assure you, life won't be the same after this webinar.  Your computer brain and loving heart will come together to discover truth and send you home to the paradise that has always been here.
–Lots of movie clips, music videos, pictures and clips from documentaries will keep your brain active and your heart pumping.  Recordings of live Q & A in each of the six parts will stimulate and provoke further discoveries.
–Six parts of 1.5 hours each 
-Part 1:   Who are we?
-Part 2:  Where are we?
-Part 3:  Why did we create "here" and what is our purpose for being here?
-Part 4:  When do we fulfill our purpose and how?
-Part 5:  What alchemy treasures in our treasure box can we use to discover truth, fulfill our purpose and get us home?
-Part 6:   Topic continued from 5th part with Q & A related to all six parts.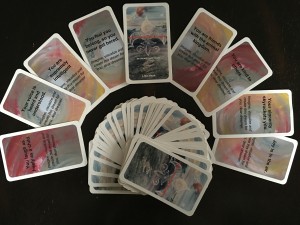 Order your 44 Dream Card Deck for $12.00 via email to Lisa at lisa@dreamsforsociety.com or purchase by clicking the Buy Now button.
Walk with me as I tell you a true story about my visit with the forest elf who gave me an important message.  You may read the story for free online by clicking this link: "The Forest Elf"
Order a hardback copy for $30.00 via email to Lisa at lisa@dreamsforsociety.com. Or click the Buy Now Button.
Lisa's book is available on Kindle with a direct link " here " for $3.33. You can take a look inside for free at this link as well.
My three year "Life is a Mystical Opportunity" journey of visions, dreams and experiences has been a journey of remembering. As we begin to remember we are already perfect and know everything, we live our lives more easily and abundantly. When we remember what we already know, our challenges, illness and problems simply fall away. As we treat life as a mystical opportunity, we uncover our truths. When we uncover our truths, we discover the wisdom, love and power within us. As we let go of the "sorrys' of the past and the "worries" of the future, we create with love in this moment. We imagine, visualize and create a world in which we thrive and live happily every day.